Hello all, haven't been here since the board software was changed - big improvement all round 8)
Thought I'd kick off with a pic of my pedalboard. It used to be such a simple affair but then I bought a Rangemaster kit and things just kept getting built! It didn't stop there either, I eventually used my BYOC experience to help me mod the Big Muff as well.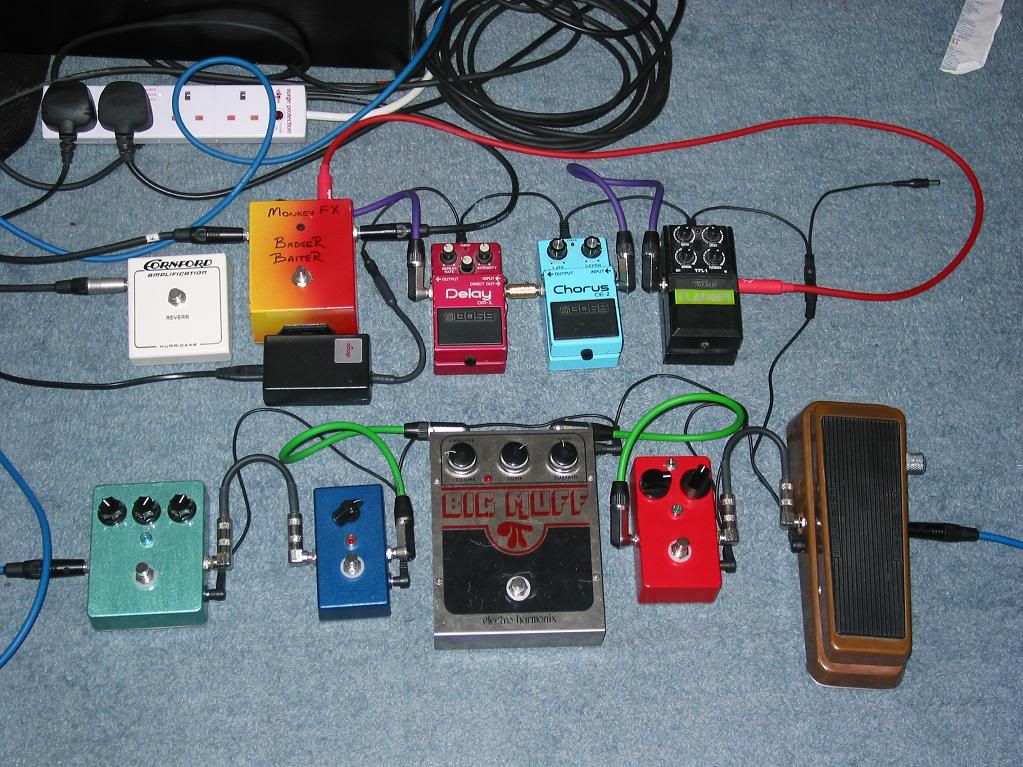 The blue one is my first build, an old point to point Rangemaster modded for negative ground. It's a real mess in there and I keep meaning to go back to it and clean up, but it's pretty quiet unless I use it in front of a fuzz so I haven't bothered. It's painted to a 'sandpaper' finish with hammerite hammered blue spraypaint.
The green one is a 'boo-teek' 808 kit with mid reduction, TI chip and assymetric clipping. I added a blue LED for boutique flavour. This is my favourite, both in sound and as a project. Turned out much neater than the RM. Painted by brush with hammerite hammered green - you can see the brush marks if you look closely but the hammered effect is pretty good. Better than I could get with spraypaint; the sandpaper effect on the RM was a happy accident.
Finally, the red one is a fuzzface. Green LED, Q1ge/Q2si trannies, different knobs, input cap switch (stock vs 0.47) and painted the same colour as my car using touchup paint. I like this one best cosmetically but I've never got it working quite right. Is the volume supposed to be more than halfway up before it matches the bypass signal?