*Make sure your pedal works stock before attempting any mods. This can ease troubleshooting.
MORE HIGHS/CLARITY:
This really opens up the tone of the pedal, and adds sparkle to low gain tones. EXCELLENT MOD!
flo wrote:
Refering to BYOC schematics:
http://www.buildyourownclone.com/shredder.html
http://buildyourownclone.com/shredderinstructions.pdf
Strange that both the Treble control and the last opamp section (the buffer after the Contour circuit), filter out the high frequencies of the signal starting at 1kHz. Imo it sounds better to have the last stage as a full-bandwidth buffer and use only the treble control for taming the high frequencies.
The last stage as "stock" Marshall Shredmaster: C15 = 1nF parallel to the 100k negative feedback resistor R15
=> Cutoff frequency = 1.6kHz.
The last stage as full-bandwidth buffer: C15 = 100pF parallel to the 100k negative feedback resistor R15
=> Cutoff frequency = 16kHz.
So if you find the Shredder to be a bit "dull", change C15 to 100pF instead of 1nF (C15 parallel to 100k R15 at the last opamp stage in the schematics of BYOC). It makes the Shredder more "sharp", cutting better through a busy mix.
And as always, of course I'm not the first to notice this:
http://www.diystompboxes.com/smfforum/i ... #msg278733
Read more in this thread:
viewtopic.php?f=30&t=12297&st=0&sk=t&sd=a
MORE GAIN !!!
See the PCB picture below? To the left of the IC, there is a 10K Resistor, labeled as
"R4"
By lowering the value of this resistor, you will increase the gain.
Grab a 10K pot and mount it to your enclosure and you can dial in the gain you want, or simply socket R4 and experiment.
OR…
ManicSubsidal wrote:
You can also add a parallel resistor with a switch. This will ensure that you always can go back to the stock shredder.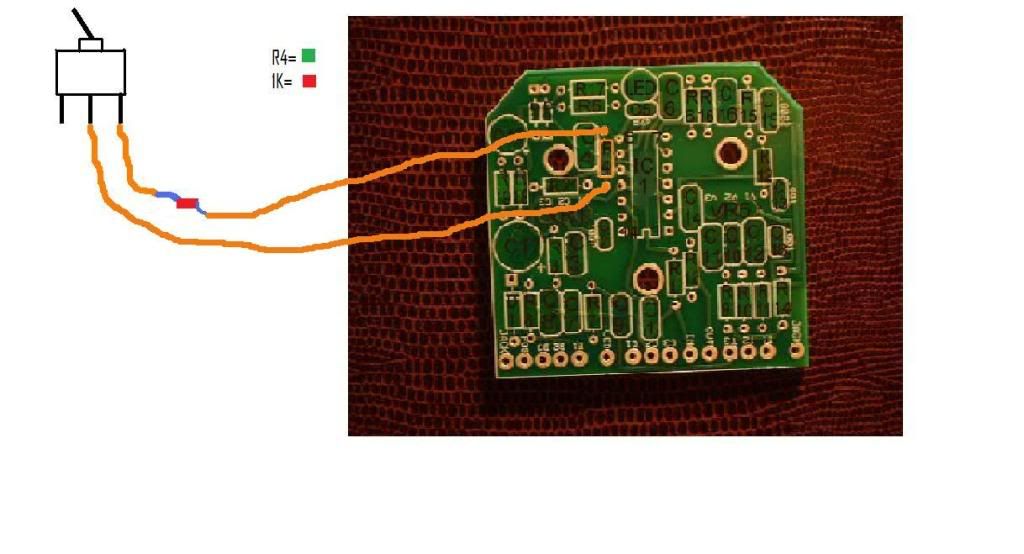 If I remember correctly, I used a 1.5K resistor in parallel to the stock resistor. You should be able to go as low as 1K, though.
(If you get a "howl" by lowering the resistor value, try placing a buffered pedal before your shredder)
CLIPPING MOD:
Ikeda wrote:
Hey guys. I just tried a new clipping mod on my shredder and I really like it. It's basically the overdrive mod from beavis audio's Mightier Mouse, except I used the standard 1N914's instead of LED's on the other side of the switch. I think that it sounds really good. It also lets you bypass the clipping diodes and just overdrive the IC.
http://www.beavisaudio.com/Projects/FKR ... rMouse.gif