Here are three more builds from my bench. I have a really awful digital camera with no close-up macro so they don't look so hot.
The first one is The Rooster Booster. It's a reworking of my old BYOC Rangemaster kit into a Tri-Boost, in a Hammond 1590BB enclosure with an added tone control. The tone control really comes in handy for taming some of the fizziness of the Germanium setting. I've always loved the song "Little Red Rooster" and I'm a diehard fan of Foghorn Leghorn so The Rooster Booster it was: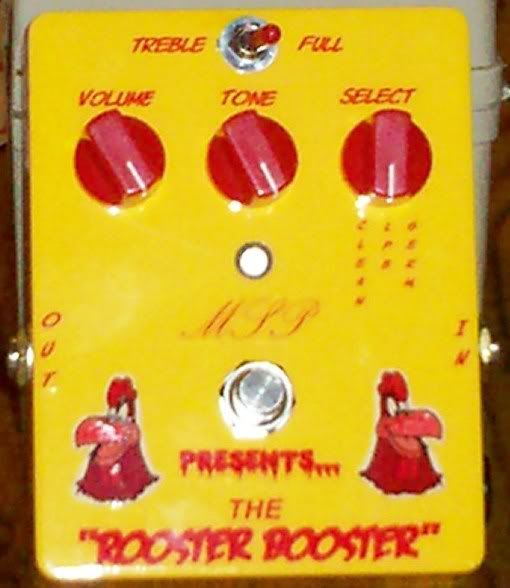 The next one is the Resident Ringer. It's not a BYOC kit but I decided to stick it up here anyway. It's basically a GGG Green Ringer board. I had a 18-year-old DOD A/B box that was just laying around useless so I gutted it and built the Resident Ringer inside of it. I've always loved The Residents and I really like the way I've got the Violet LED centered right in the pupil of the eye: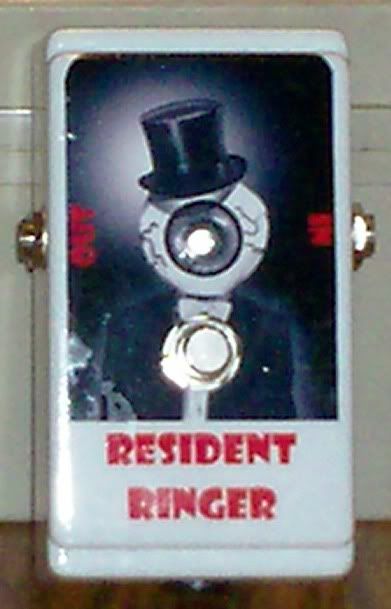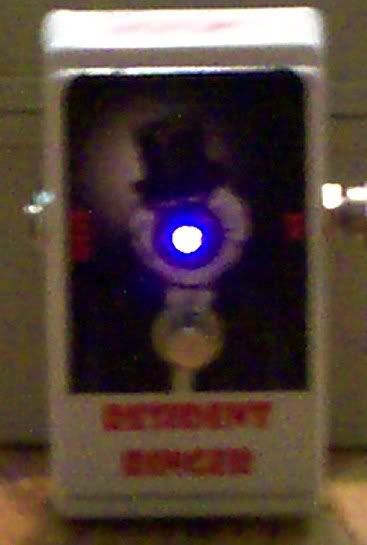 The last one is my most recent build. It's a Distortion+ clone built with a BYOC board inside of a BUD/MXR-sized enclosure. I got the burnt mustard color down pretty close. It's actually Testor's 'Afrika Mustard'. It's a flat finish paint but I glossed over it and it was cool. The knobs and boots are actual Dunlop, MXR re-issues that I got from DIY Stompboxes. Just to be cheesy, I stuck a bright amber LED in this one.