Aaaah, what the heck--opened up the box and took a couple of photos of this mod.
The first is just a full shot of the pedal guts. You can see the two reddish-brown .0033uf caps mounted on the PCB with the green .0068's hanging off them. (I used .0033uf non-inductive PE film caps because Mouser was out of stock on the .0033 sub-mini PE film caps.) The red pieces of hookup wire attach the .0068's to the lugs on the back of the green DPDT switch body, to the right of the output jack.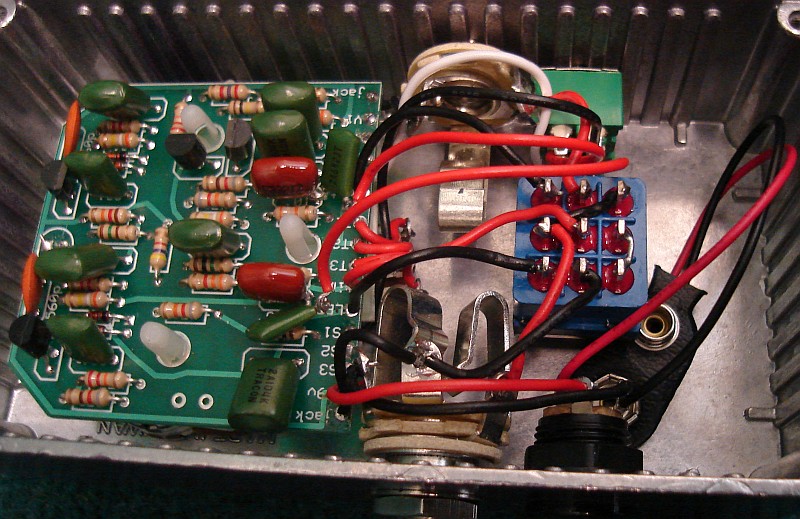 The second shot is a closeup of the two pairs of filter caps. You can see how the green .0068's are soldered to the leg of the red-brown .0033's just above the surface of the PCB. The bottom pair also shows the attachment of the hookup wire to the other leg of the .0068 cap; you can see how the spiral coil of wire was slid over the cap lead and soldered. The .0068's are then bent up from the board surface a bit so that there's no chance of contacting/shorting against anything.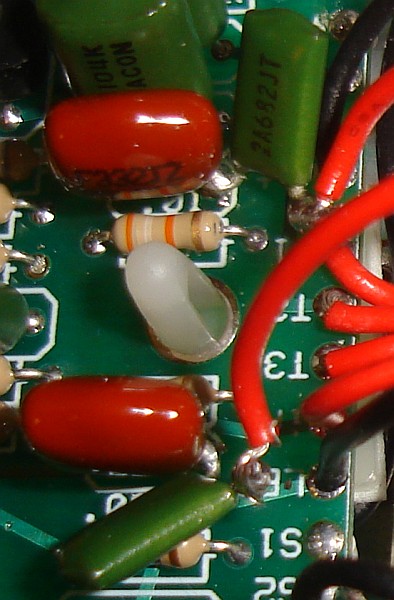 The third and last shot shows the attachment of the hookup wires to the DPDT toggle switch. You can see the two red wires from the .0068 caps attached to the two middle lugs of the switch, and the black wire from the left-side back of the PCB (formerly the .0039uf cap) soldered to the top right-hand switch lug. Not visible is the attachment of the fourth wire (the white one) from the right-side back of the PCB to the lower left-hand switch lug.