The new Analog Chorus kit, based on the old Boss CE-2 (the former BYOC Analog Chorus kit was based on the E-H Small Clone circuit), has been released. Directions are located here:
http://buildyourownclone.com/chorusinstructions.pdf
Analog Chorus (Rev. 1.0)
Analog Chrous PCB (Rev. 1.1)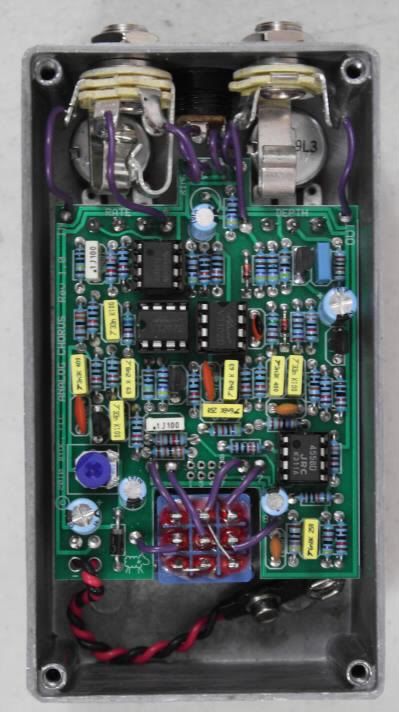 Attachment:
ce2rev11schematic.jpg [ 87.29 KB | Viewed 580 times ]
There appear to be a few errors in the schematic...
* R11 is 4.7K and NOT 10k
* C13 is 100pf and NOT 220pf
* C16 is 47uf and NOT 10uf
* Pins "A" and "B" of IC4 should be reversed
* Pins 5&6 of IC3 should be reversed
Parts List
R1 - 330K (Rev. 1.1 = 1M)
R2 - 10K
R3 - 10K (Rev. 1.1 = 1M)
R4 - 47K
R5 - 47K
R6 - 100K
R7 - 10K
R8 - 10K
R9 - 10K
R10 - 10K
R11 - 4.7K
*
R12 - 56K
R13 - 330K
R14 - 10K
R15 - 10K
R16 - 10K
R17 - 10K
R18 - 1M
R19 - 33K (Rev. 1.1 = 47K)
R20 - 33K (Rev. 1.1 = 47K)
R21 - 47K
*
R22 - 10K
R23 - 470R
R24 - 100K
R25 - 10K
R26 - 10K
R27 - 10K
R28 - 1M
R29 - 33K
R30 - 47K
R31 - 220K
R32 - 4.7K
R33 - 4.7K
R34 - 150K
R35 - 2.7K
R36 - 33K
R37 - 47R
R38 - 4.7K (LED)
*
= Wrong value shown on schematic
VR1 - B100K (Rate)
VR2 - B100K (Depth)
VR3 - 25K Trimmer
C1 - .1uf (Rev. 1.1 = .047uf)
C2 - .0068uf
C3 - 100pf
C4 - .033uf
C5 - .0033uf
C6 - .0082uf
C7 - 470pf
C8 - .033uf
C9 - .0033uf
C10 - .0082uf
C11 - 470pf
C12 - .033uf
C13 - 100pf
*
C14 - .0068uf
C15 - 1uf Electrolytic
C16 - 47uf Electrolytic
*
C17 - .1uf
C18 - .01uf
C19 - 47pf
C20 - 100uf
C21 - 47uf
C22 - 100uf
*
= Wrong value shown on schematic
Q1-Q4 - 2N5088
IC1 - RC4558 (or other dual op-amp)
IC2 - MN3207 (BBD)
IC3 - TL022
IC4 - MN3102
D1-D2 - 1N914 (or 1N4148)
D3 - 1N4001
Current Draw: 8.5ma